yokoinc
2

October 16th, 2017 + 4:10 AM
·

yokoinc
Welcome back to mid 20th Japanese TV and this rendition of theme to Ultra Q an early 1960s hit Japanese TV series .High quality production in this show which featured Sci-Fi Twilights Zone , Outer Limits / X Files plots. Some amazing fx for the day sans green screen & yes there were actors in rubber suits stomping all over models of Tokyo .They sure had some fun .
7

Grandson wanted to something to play while quietly working on lego ...Teaching him basic recording production skills ... levels frequency & panning also he recorded grand pa on sax plus his vocal ..
3

Uh ohh some tunes with grand kids vocals
She has makings of a great little punk rockster
with help from grand pa .
7

April 15th, 2017 + 10:04 PM
·

yokoinc
Rendition of theme to TV Show Key Hunter 1968/73 Japanese action packed spy drama. Key Hunter was a unique TV show, which started out as a grand scale spy thriller never before seen in Japan. The episodes were individually themed on global crimes and political strife. The initial hardboiled theme later evolved to include intellectual elements involving action, and occasionally with comical elements as well. Star of series Tetsuro Tamba starred in the 1967 Bond film You Only Live Twice as Japanese Secret Service agent Tiger Tanaka, . This role greatly influenced his image in Key Hunter

I love music from this era : Japanese producers were influenced by western music styles then took them to a whole new level.
Jeremy put down a live drum track to this to add to authenticity .She is a bit rough around the edges buts thats the charm of the genre.Twang guitars tenor sax organ e.p and synths .
9

April 6th, 2017 + 7:04 PM
·

yokoinc
Great to see the Amp up and running again. This piece Inspiration recall as a kid now 50 years ago Perched high on a cliff over Cylinder Beach Stradbroke Island Queensland huge swells from the Pacific rolling in and hearing this music rattle out of car radio in our ute packed with camping and fishing gear ;the Good Bad and the Ugly ;.Big sky big ocean and big Ennio Morricone. fan here music that just says you are alive today so live it to the best. It was hot 100 in the shade .
Alias:
yokoinc
Status: Offline
Threads:
24
Posts:
506
Songs:
15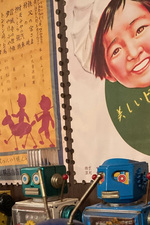 Joined: July 05th, 2006
Last login: October 31st, 2017
My Messengers
| | |
| --- | --- |
| AIM: | n/a |
| ICQ: | n/a |
| Skype: | n/a |