yokoinc
4

April 17th, 2020 + 1:04 AM
·

yokoinc
Back in the mid 70s I had a friend , a great guitarist & cinematographer who arrived back in Australia from a few years in the U.S . .Before flying back to Australia he'd spent some months enjoying a good old "Rocky Mountain High"with all the bells and whistles.The night before flying back his friend popped him some peyote buttons and took him to a concert , "you have experience this band before you leave ". The band was The Tubes .He arrived back in Oz and promptly checked himself into another retreat to recover .He was fine and proceeded to enjoy a brilliant career and enlightened life he credits the Tubes White Punks On Dope.
3

March 20th, 2020 + 10:03 PM
·

yokoinc
Fill the tank and hit the road Self isolation bumpin big beat wheels turning .
2

January 23rd, 2020 + 6:01 PM
·

yokoinc
Cover of Kasenetz-Katz bubblegum 1960s hit always loved it had to do it .Run Joey Joey Run .Hope it lights up your day.
2

January 1st, 2020 + 4:01 AM
·

yokoinc
Detective Harada called in on the case of the elusive White Tiger gang and their smuggling activities at a remote abandoned WW2 air field .Danger lurks at every turn but Harada uncovers something else , something ancient ,something Alien .Good Luck
7

July 11th, 2018 + 1:07 AM
·

yokoinc
In old Japan Villages ran on Toki Toki Time , length of days and time at work determined seasonally by available sunlight . They also used Shamisen players to estimate time ,many players blind but they played songs whilst others worked the fields.A time when our lives were in synch with the movement of seasons the earth Sun and Moon .
Alias:
yokoinc
Status: Offline
Threads:
21
Posts:
510
Songs:
12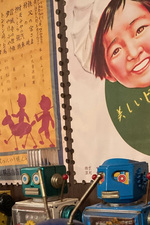 Joined: July 05th, 2006
Last login: April 17th, 2020
My Messengers
| | |
| --- | --- |
| AIM: | n/a |
| ICQ: | n/a |
| Skype: | n/a |