yokoinc
3

January 6th, 2023 + 8:01 PM
·

yokoinc
Its been quite a while so like to wish Ampers all the best for 2023.After all these years its heartening to see some familiar faces still here .
Running low on original ideas so reverted to a cover from a band hailing from my old home town of Brisbane 1978 and the punk era which i'm proud to say I was a part of .Yeah safety pins broken glass amyl nitrate cheap thrills and the qld police all part of the narrative , but now i'm older a grand pa and the grand kids want to know all about it soooooo. Got my grand son to run the machines while i played sax .
Recorded on my now ancient imac with softeware so outdated ,but still for a punk song with guitars dirty amp & horns it does the job.
Message still relevant "Know Your Product" by the Saints. so yeah where's the professor?
6

August 17th, 2020 + 6:08 AM
·

yokoinc
Asked myself just how far do we travel a day on earth ? Turns out 1.6million miles per day local and combined with Solar System hurtling into outer space 32million miles a day.
4

April 17th, 2020 + 1:04 AM
·

yokoinc
Back in the mid 70s I had a friend , a great guitarist & cinematographer who arrived back in Australia from a few years in the U.S . .Before flying back to Australia he'd spent some months enjoying a good old "Rocky Mountain High"with all the bells and whistles.The night before flying back his friend popped him some peyote buttons and took him to a concert , "you have experience this band before you leave ". The band was The Tubes .He arrived back in Oz and promptly checked himself into another retreat to recover .He was fine and proceeded to enjoy a brilliant career and enlightened life he credits the Tubes White Punks On Dope.
3

March 20th, 2020 + 10:03 PM
·

yokoinc
Fill the tank and hit the road Self isolation bumpin big beat wheels turning .
2

January 23rd, 2020 + 6:01 PM
·

yokoinc
Cover of Kasenetz-Katz bubblegum 1960s hit always loved it had to do it .Run Joey Joey Run .Hope it lights up your day.
Alias:
yokoinc
Status: Offline
Threads:
23
Posts:
515
Songs:
14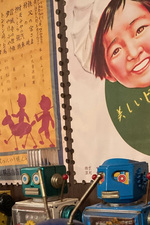 Joined: July 05th, 2006
Last login: January 06th, 2023
My Messengers
| | |
| --- | --- |
| AIM: | n/a |
| ICQ: | n/a |
| Skype: | n/a |